1
« on: April 23, 2010, 08:17:30 AM »
There was a problem when generating Filelist.
I tried to change the encoding, but does not help.Very ugly percents
%20-%20%
Does the program generates a file list like this below. And if possible can anyone help me with code for filelist.tpl.I use the HFS with RAWR-Template only from a few days and I am not familiar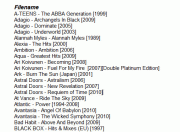 Sorry for my bad english.